To ensure the success of your website, blog, and online store then it is important to work on SEO techniques. Every webmaster is aware of the importance of SEO. How it works for the growth and development of their online business.
What is Search Engine Optimization (SEO)?
You should have a basic understanding of what is SEO and how it works on a website. SEO is Search Engine Optimization. There are some set of rules that you can easily apply on your website to achieve high rankings on Google. Your website will get more visibility and a good amount of traffic too.
The two goals of Search Engine Optimization (SEO) include:
Prepare and post high quality content on your website to satisfy the need of the users.
The second is that you have to create a website index it on the search engines. Only when these search engines will crawl on your website get information about it. After that you can earn brand visibility.
Also Read : Best Tools For SEO Analysis 2021
Following good search engine optimization techniques is the best way to make your website user-friendly, with fast and easy navigation. All these things are beneficial in improving your website quality and visibility among the users.
The list of tasks you need to do while doing SEO of your website are:
Search for the group of people that are related to your products available online.
Write user-friendly content.
Through SEO techniques make it clear to the search engines during crawling that you are following all the algorithms.
As a webmaster, you need 6 different types of SEO techniques for boosting your website are:
Many people are aware of only one type of SEO techniques is keyword stuffing. Furthermore, other basic SEO techniques need to follow for boosting your website on the internet. 
6 Types of Best SEO Techniques
You can use these 6 types of best SEO techniques to make your website rank on Google top pages are: 
On-Page SEO: You all are familiar with the activities of On Page SEO techniques i.e. is On-Page SEO. It includes the list of things the readers can see while visiting your website. In On-Page SEO, the most important is the content. You should write informative content. Then, the content will easily rank on Google. Try to make your content more awesome to gain readers' visibility online. Make sure all the keywords used are helpful to boost your content. Beyond the keywords, you should make a clean website design and easy navigation to get maximum visitors' attention. A suitable design for a website plays a crucial role in Best On Page SEO.
Off-Page SEO: In comparison with On-Page SEO, the Off-Page SEO is a bit difficult to do the type of SEO on your website. The most important thing of Off-Page SEO is the link-building part for the webmasters. They need to get safe links from high authority websites to get traffic and presence on Google pages. Still, it is extremely difficult to measure the value of a link that you have added to your website. How it will perform in making your website a successful venture. On the other hand, the majority of people have worked hard in their careers by building backlinks from authority websites. Apart from backlinks, another off-page signal is social media. It can bring a big change in the working of your live website. You are website started getting attention on the social media platforms like Facebook, LinkedIn, Twitter, and Instagram. It is worthy for you. It can happen only when you will do a solid promotion correctly using link building SEO techniques. For this, you can start building positive relationships with webmasters, bloggers, and SEO executives working in other organizations. Then, you can ask for backlinks from them. The two of them start promoting each other website's content on social networking platforms. Do guest blogging on high authority websites to generate good quality backlinks for your website. You can do it on Reddit and some relevant forums are available for you.
Local SEO: Many business ventures that are operating on the internet at the local level should start focusing on Local SEO too. Still, you are not able to make money if the customers are not aware of your brand. Make a My Google Business Page in which you update all the information related to your business name, address, and contact information. All this information will available on Google Maps. Therefore, the customers that are interested in your business will come. Take the help of your customers and start posting some real reviews about your business too. It helps gain the trust of the people. Display all these things about your business on Google too. It is a high-priority thing for your business to start working on the features of local SEO. Then only, you can get customers to your business and generate profits within time.
Technical SEO: Some people call technical SEO the subset of off-page SEO. They should know that technical SEO is a different thing. It is associated with the on-page technical done on the front-end part of the website. Furthermore, technical SEO is a type of SEO that includes HTTPS secures connection, image optimization, page speed, and responsive designing. It takes time in loading your website. Then, you can be penalized by Google according to the ranking algorithms if your site has some issues connected with the page speed and image. Then, you should sort them out. The bloggers should start using the schema markup to tell the search engines about your website. Make sure, the Google crawlers can understand what is your website all about easily. Prepare a user-friendly website design so that you can provide a good user experience to the people visiting your website.
Optimization of App Store: Google and Bing are the search engines you can index your website and people can have a look at it. On the other hand, if you have an app then you should optimize it on Google playstore and Apple store. People search about some applications on these two platforms regularly. On-Page Optimization and App Store Optimization are similar. The two things that everyone will see are the app's title and icon. Therefore, make it clear to them. Tell all the necessary information about your app too. Your app can get higher rankings on playstore only when you can create high links on your app. It takes effort and time but you should do it seriously.
YouTube SEO: A niche type of optimization is YouTube SEO. It can make a big difference in the amount of traffic that you get. Some people do not realize that YouTube is also one of the most popular search engines in the world. Make a video for YouTube with good value of content in it. Add a suitable title and description to your video. Without doing the keyword research, you can add a long tail keyword so that Google can understand your video. Common video keywords include tutorials and how-to. Get the videos on YouTube on these kinds of keywords to generate views. Encourage the viewers to comment on your videos. It will help to improve and bring the content in demand for them. In this way, you can reach out to a wider online audience using these kinds of search engine optimization techniques.
Black Hat vs White Hat SEO Difference
In White Hat SEO, you make use of the best techniques and practices that are according to Google's guidelines. An attempt to fool the search engines is done through the black hat SEO techniques. Google gets any clue that you are doing Black Hat SEO things on your website. Then, you are website is penalized.
Why SEO is important for the business to grow?

Importance Of SEO
SEO is a valuable tool for brand awareness purposes on the internet. Furthermore, it holds importance in the digital era because it attracts more traffic and opportunities to your website. Above, I have mentioned what is SEO, types of SEO, and search engine optimization techniques. You are not aware of SEO's importance then you cannot apply all these techniques in a better way.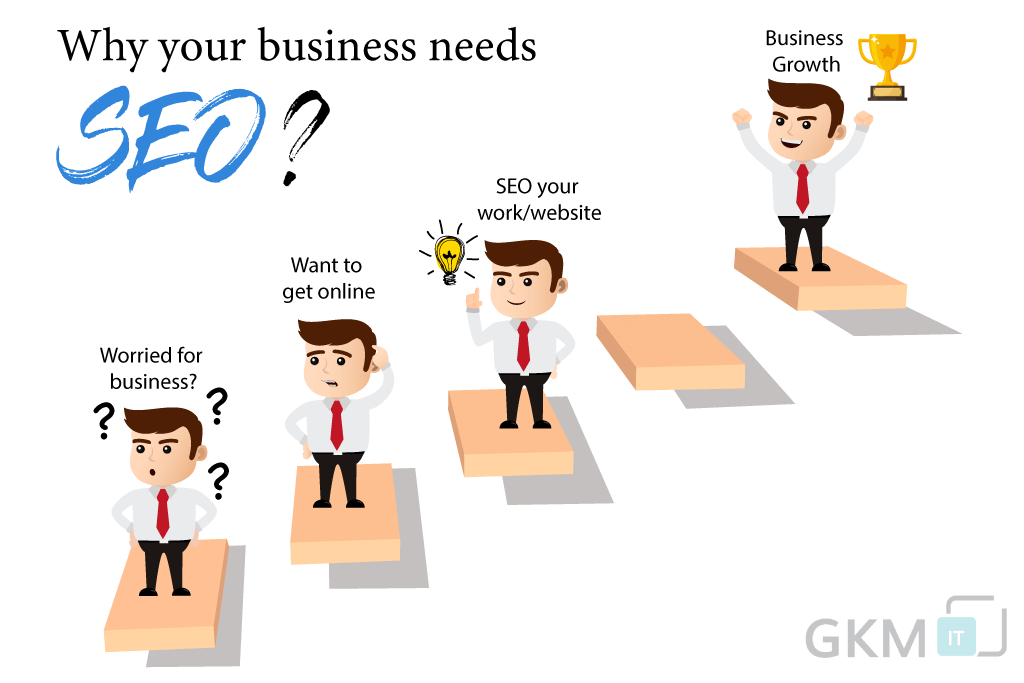 Create a better visitor experience: SEO is a critical thing for a website because it improves its usability and website. Then, many people follow your websites, and you get income+ traffic too. Around 50% of people expect a website loading time of two seconds. It would greatly help if you took care of such important things to get good traffic.
Visibility & Ranking: With the help of the on-page and off-page SEO elements, you can become visible online. The more you focus on SEO, and you will get higher rankings. It would be helpful if you always remembered that visibility is connected with the website ranking.
Website Traffic: It is one of the main goals of SEO is to get traffic on the website, visibility, and rankings. You have to follow the SEO practices to get visibility on Google and other search engine platforms on the internet.
Website Authority Building: In SEO, the concept of authority building is new. It has become an essential thing with the passing time. Authority means trustworthiness, relevance, and high quality. High authority websites get more trust from their users to create a brand on the internet. People who want to get potential customers should create a website and work on its authority building to gain traffic.
No need to pay for advertisement: You know the traditional advertisement methods. In which, you want to display a website on the television, radio show, magazine, and newspaper. Then, you have to pay the required amount for it to the ad company. Your advertisement plan gets over then the company will remove you are ad. Then, you would not get any positive results in your business. Still, it is the traditional model. You start applying the SEO techniques then no need to pay a single penny. It is one of the essential benefits of using SEO. PPC is one of the ways by which you can get into Google's top rankings. Apart from that, follow the ways that help you to get the top rankings organically. It will in the growth of your business for a long.
Find Target Audience of your Website: You can easily find the target audience for your business or website if you began using the search engine optimization techniques. Follow the keywords to build your brand visibility in front of your target customers online. You can prepare some marketing strategies to reach your goals and make your online presence.
Get ahead of competitors applying proper SEO techniques: You start optimizing your website. Then, you are not doing it to get better rankings on Google. You want to get ahead of your competitors too.
Improving users' experience: The main of Google is to focus on providing possible results to the users. For the webmasters, they should keep themselves updated with the latest guidelines of Google algorithms. You want continuous improvement on your website for a better user experience. Then, you need professional help.
Measure the results of your website easily: You will find one of the most important benefits of SEO is that you can check your website's functioning online. Earlier, you need to rely on the traditional correlation methods to check the performance of your business. Now, things have changed a lot. With only one click, you can measure the business performance online anytime. It will save you time in doing calculations and no getting the proper results.
Crucial SEO Ranking Factors
For every webmaster, it is hard to keep updated with the latest developments in the Google algorithms. You want traffic on your website and then follow the latest algorithms. Your hard work will go to waste if people are not able to find your website on search engines. Here is the list of the SEO ranking factors:
Accessible Website: You have prepared a website then it should be accessible to online users. After making the website and posting the content. You should index on the search engines Google and Binge. Then, the people can know about it after the search will crawl through your website and give information of it.
Security: One of the most essential things is website security. Make sure, you have worked on it seriously. Hackers leak any information about your website then it will affect your brand image.
Website Page Speed: You are the website of loading at a fast speed on computer and mobile. Then, it will get more attention from the users.
Mobile-Friendly Design: Try to work on a clear and user-friendly website design. A person who visits your website does not find anything easily. You will lose traffic.
Content Optimized According to Google Guidelines: Work on your content, write unique, easy-to-read, and informative posts for the users. You should keep your readers on top priority.
Internal & External Links: Do the complete interlinking of content on your website. Then, the visitor will get to know about the other articles available on our website. He or she will read them and get the other information.
Technical SEO: Technical SEO is all about clean website designing and easy navigation for the users.
URL, Domain Age & Authority Information: The performance of the website depends on domain age and authority. An old website can earn Google trust easily in comparison with a new one.
Social Presence of Website: Start promoting your website on social media channels including Instagram, Facebook, Twitter, and LinkedIn. People can know about your brand.
Give Real Information of Your Business: Provide real and complete information about your business to the people. It is the duty of every businessperson. He or she should follow it seriously. You are giving complete information about your business. Then, the potential customers will start connecting with your brand and buy the things.
Conclusion

On Topic SEO Techniques
The basic use of SEO techniques is to get better rankings on Google. Your website is improving and getting good results. Then, the people will start getting to know about your online business ventures. They will see to it start following it. Before the following SEO, you should know about what is SEO importance of SEO and the types of SEO.
Then, you can follow all the SEO friendly article guidelines easily. Try to post informative and unique content on your website regularly to get more viewership. Make a mobile-friendly website with a clean design.
Also Read : How To Start A Blog From Scratch
Stuff the keywords properly in your content. Every webmaster should follow these basic but necessary things to guarantee success. However, you have started taking shortcut steps of black-hat SEO. For the short time, you will get benefits, not in the end. Google will penalize your website or permanently ban it too.
Never follow such things to fool your users and Google. It will take time to do the on-page and off-page SEO. You will get good benefits from it too.