Now, GrooveFunnels has received a lot of hype. It is emerged among the fastest-growing sales funnel software and digital marketing tools. Furthermore, GrooveFunnels is an all-in-one tool and it is beneficial to run the online digital marketing business smoothly.
You do not want to spend extra money on sales tools, funnel builder, CRM tool, and email marketing. Pay for these digital marketing tools when you need them. You will have one account to use the tools and run your online business.
In this GrooveFunnels Review of 2021, you will discover about GroovePages, GrooveSell, GrooveMail, and GrooveKart. Some other groovy tools are beneficial in the growth and development of your online business.
Most of you are familiar with the other digital marketing tools ClickFunnels, Karta, Leadpages, and Builderall. A pioneer personality of the digital marketing era named Mike Filsaime launched GrooveFunnels.
He is a software developer and person behind GrooveDigital. In this Groove review, we will discuss the pros, cons, and features of GrooveApps. Additionally, we will share the pricing of its alternatives too.
What is GrooveFunnels all about?
GrooveFunnels is a complete package of digital marketing tools. These tools have been designed in building sales funnels and websites to sell online products. Some digital marketing tools, you get with GrooveFunnels include GroovePages, GrooveSale, GrooveMail, and other software useful in online business. These tools are useful to sell the products online.
GrooveFunnels Founders & Team– Best Digital Marketing Tools
Groove Digital Inc. is the place where you can get the best online influencers, software developers, and digital marketers.
The team members of GrooveDigital Inc. are:
Mike Filsaime: A digital marketer and online influencer Mike Filsaime has achieved huge success in making software products and online courses. He is the smart online marketer who stood strong in the testing times. Filsaime has designed a range of flagship digital marketing tools include Webinar Jam, DealGuardian, EvergreenBusinessSystem, PayDotCom, and Butterfly Marketing. He prepared these tools to eliminate the pain and frustration of the people involved in the digital marketing business. For many popular brands, he has launched products worth $1 Million. From these digital marketing tools, he earned $125 Million.
John Cornetta: John is an eCommerce marketer. He makes a six-figure income in a month from his several online stores business. Cornetta holds expertise in running the e-commerce business. He prepared one of the best online platforms GrooveKart. It has been placed beyond the other shopping carts like BigCommerce and Shopify. GrooveKart is easy to use because it has a clean interface. In addition to this, it is affordable to all its users. John is a great guide when it comes to selling things on the online platform. His expertise helped in delivering unmatched solutions i.e. GrooveKart.
Mattijs Naus: Matt holds the position of CTO at GroovePages. At GrooveDigital, he is the founding member. He has mastered building excellent software products for his organization. Naus holds expertise and extensive knowledge for designing useful products for startups, small businesses, and digital marketers. He worked closely along with his team members in the development of powerful solutions include Kartra and ClickFunnels under GrooveFunnel. These tools are useful in the digital marketing business from the past years.
Matt Serralta: Matt is an architect at GrooveKart. He holds 10 years of experience working at senior and executive management levels. Furthermore, he has handled sales, administrative operations, P & L in the eCommerce field. He was the former COO at Prestashop. He gave his consultancy services at Office Depot. He knows what is doing with his contributions in the eCommerce marketing field and digital marketing. John and Mike have worked hard in making these software tools WebinarJam and Kartra. They have come together for GroovePages2.0.
Facts about GrooveDigital Inc
GrooveDigital Inc is the company and all the GrooveFunnels product and digital marketing tools come under it. The workplace consists of work from home and office staff working for the company. GrooveDigital has designed the well-known software brands GrooveKart, GrooveFunnels, GrooveAds, and GroovePay.
List of tools that GrooveFunnels have
GrooveFunnels contain a complete suite of digital marketing tools.
GroovePages
GrooveSell
GrooveMail
GrooveAffliate
GroovePages designed for Shopify
For live webinars and automated webinars use GrooveWebinars
Groove Blog
GrooveMember
GrooveVideo
Groove Desk
Groove Calendar
GrooveQuiz
GrooveSurvey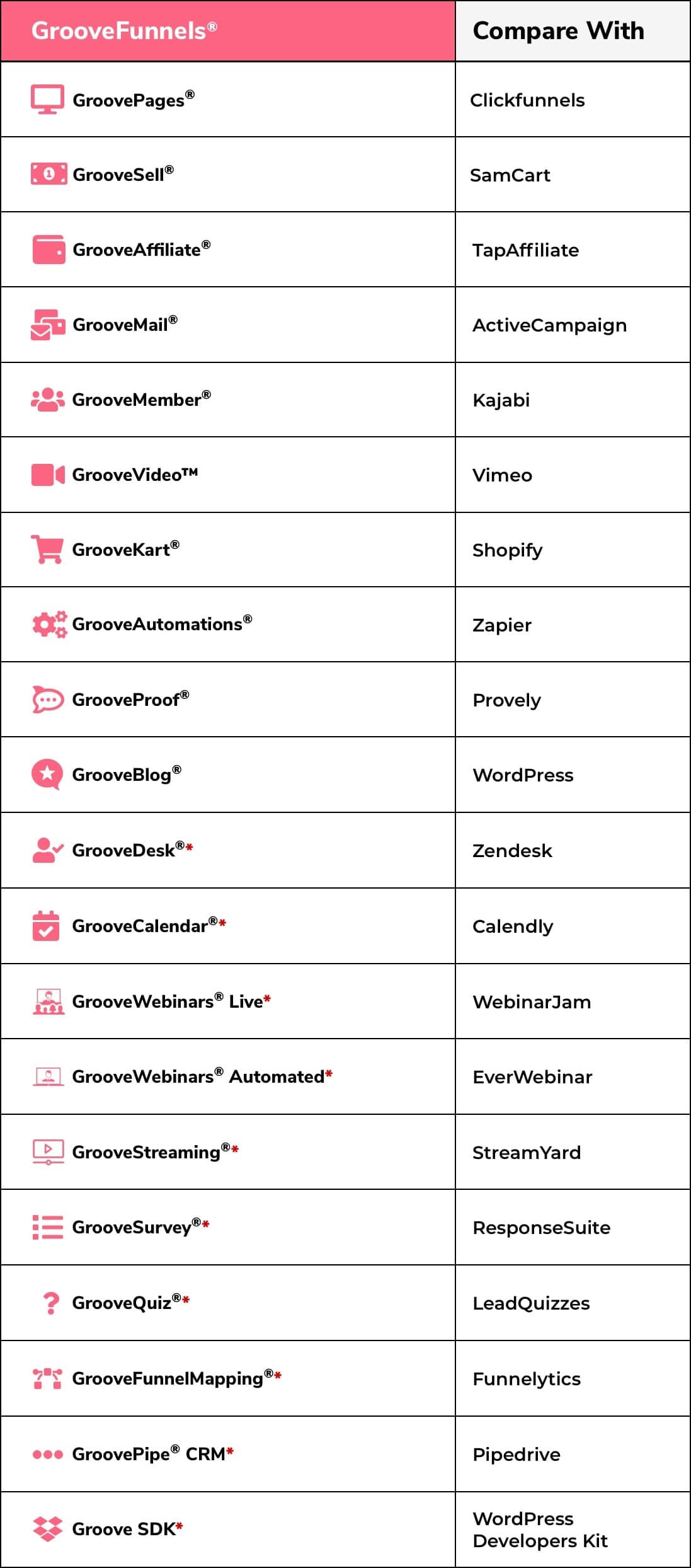 Is it right for digital marketers to use GrooveFunnels?
The GrooveFunnels platform promises to deliver the best digital marketing tools. It comes along with the experiences of bloggers, small business owners, and course creators.
GrooveFunnels is the best tool to use for those people:
Online Marketer
Online Content Creator
A person has products or services to sell online
You want to make funnels and landing pages
You have planned to start a membership site.
However, the GrooveFunnels products are not suitable for you if:
You are comfortable in using Kartra and ClickFunnels. Still, you do not have any plans to switch to GrooveFunnels.
You are the person who does not have any products to sell or promote online.
You do not have any idea how to use these digital marketing tools in your business.
You do not need all in one digital marketing tool.
Complete In-Depth Review of GrooveFunnels
We have closely reviewed every product in the GrooveFunnels review.
GroovePages
A flagship tool is GroovePages that you get from GrooveFunnels. It allows a person to create websites, landing pages, and funnels. You get a better way to make high-building funnels to sell your digital products. Using the tool, you can easily find your target audience to sell the products online. By using GroovePages, you can do the following things:
Sell Unlimited Online Products with unlimited funnels available
Design a fully functional website with navigation
Make strong checkout options
With 1-Click upsells boost the sales of the products
You can participate in the affiliate programs by using GroovePages.
Earlier, you have used ClickFunnels and Leadpages then you are aware of the use of GroovePages. You understand how the funnel works then start making your first sales funnel. It is free to make your account at GroovePages. Make your website on it and add the list of features you want in your website to have. During the website designing process, choose the template and customize it accordingly. Add texts, customize logos, and uploading the images you want on your website. Make your website live and post the content regularly to attract viewers to your website.
GrooveSell
You can get the GrooveSell tool after signing in to the account of GrooveFunnels. Groovesell is an effective affiliate marketing and sales tool. Additionally, it is an online shopping cart platform similar to other online shopping carts like PayClickStart, ThriveCart, SamCart, and Shopify. This is a powerful tool recommended for people include coaches, project experts, leaders, course creators, consultants, speakers, influencers, software developers, and authors. For the online stores, it is easy to use GrooveSell. It comes with a robust affiliate marketing system. You can use its affiliate marketing programs to improve the functioning of your online business. In GrooveSell, you get comprehensive and clean analytics.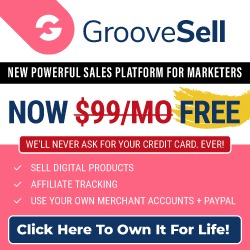 GrooveAffliate
GrooveAffliate is also a part of GrooveFunnels's digital marketing tools. For online businesses, it is effective online marketing material. To manage every aspect of your affiliate marketing along with your marketers then you should use GrooveAffliate. Using this tool, you can see how many affiliates have joined. From the dashboard, you can make the payment to the affiliates easily. The functioning of GrooveSell and GrooveAffliate is similar to ClickBank or JvZoo. These two tools are useful to find affiliates and sell online digital products. In this process, there is no need to pay any extra fees.
GrooveMail
You are doing online marketing then email marketing important for your business growth. Using email, you can communicate with the customers and then it can increase your online product sale. Use GrooveMail, to handle text and SMS broadcasting.
GrooveMember
GrooveMember has designed to help digital marketers. It is easy for them to run a membership website. It contains an online course platform and content management system. Therefore, you can host the list of courses in the virtual summits and membership sites. You can expect much more features from GrooveMember that have been added during its launch period.
GrooveVideo
Mike revealed many things related to GrooveVideo. He actively uses it to generate sales. It is helpful in the growth and development of his business. You get the power the Vimeo and Wista with the GrooveVideo platform.
Prepare videos and use them as a powerful marketing tool.
You can do the automation of the entire process.
For lead generation purpose optimizes videos.
You can share these videos on social media.
Still, you do not like to display YouTube videos. Then, you can host these videos with GrooveVideo. Furthermore, you can embed the GrooveVideos on your website. The advanced features in this tool include analytics and A/B testing.
GrooveWebinars
Mike is active in the webinar industry for years. He is a key part of creating EverWebinar and WebinarJam. To give better webinar options, he has now added GrooveWebinar. A digital marketing tool allows the users to create live hosting or evergreen automated webinars.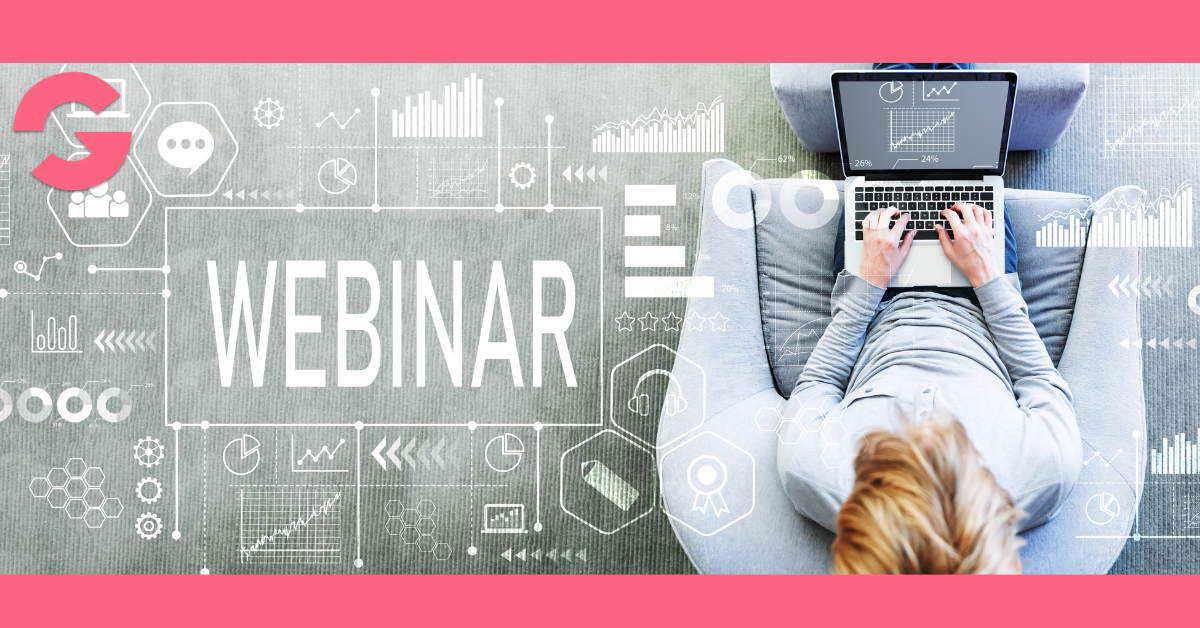 GrooveBlog
GrooveBlog is doing a great job in the content publishing field. GrooveFunnel team along with Mike understands that it is vital to publish SEO-optimized content online. You can publish content on Google using GroovePages.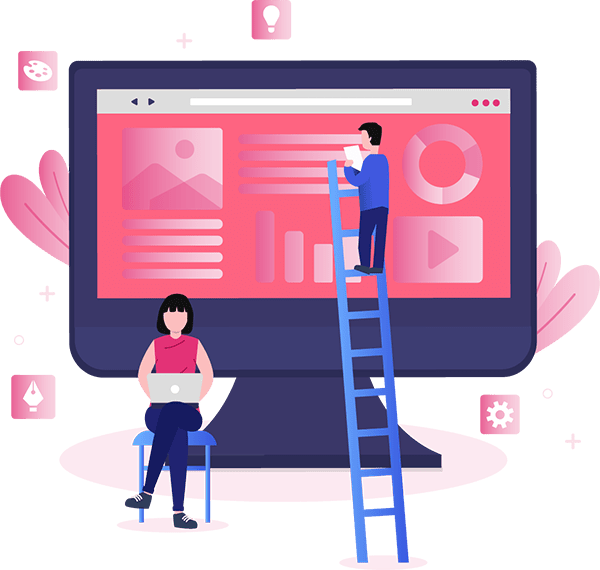 GrooveDesk
GrooveDesk is helpdesk customer support software. To handle every communication with the customer in the sale process you can use GrooveDesk.
GrooveCalendar
GrooveCalendar functions are similar to a normal calendar. This tool is for the coach, freelancer, and consultants. You can add an email sequence to book an appointment.
GrooveSurvey
The survey is a powerful tool to make interactive content. You can get feedback from the audiences using the surveys. Furthermore, you can earn quality leads with the help of these surveys.
GrooveQuiz
Create an interactive quiz for the audiences with the help of GrooveQuiz. You make interesting polls by using this tool.
GrooveKart
A powerful eCommerce marketing tool effective for product sales is GrooveKart. You have used Shopify earlier and you plan to switch then GrooveKart is the best option for you. It offers similar features to Shopify. GrooveKart has its unique strength best for digital marketing business.
Support & Training GrooveFunnels
GrooveFunnels is serious about customer support and training. You get a strong searchable knowledge base to get firsthand information related to:
Common queries
Blocks and Elements
Canvas
Websites
Tutorials
Videos
You have any queries then you send an email to the GrooveFunnels team at support@groovedigital.com.

Community of GrooveFunnels
A large community is available to communicate with the groove users. You can join the active Facebook group. In the group, there are around 4000 members. These groups are extremely helpful to get practical advice in making funnels and using the general platforms.
List of other services offered by Groove are:
Groove Digital is a reputed digital marketing company offering tons of digital marketing tools. The list of Groove Services includes:
GroovePay: For secure, easy, and fast payment, use GroovePay. It has a better merchant processing system.
GrooveAds: It is a vertical ad network to get ads on the target-based products online.
GrooveKon (Live): The largest gathering of eCommerce influencers and marketers is at GrooveKon. Here you can find excellent experts and teachers.
GrooveFest (Live): GrooveFest is a festival to meet with the GrooveDigital awesome team.
GrooveWorkshops (Live): Take the free educational workshops of Rey Perez and Dave Van Hoose. These workshops are held 4-6 times in one year exclusive for GrooveFunnel customers.
GrooveMarketplace: For the promotion, GrooveMarketplace has all the digital marketing tools and products.
GrooveAcademy: It is a training resource to get the best video material at the GrooveAcademy. To use this service make a separate account free.
How much GrooveFunnels will cost to a digital marketer?
I am very happy to announce that now you can access all the features of GrooveFunnels For Free.
The company is now giving free but later on it will cost much more so its better to be the first to register and enjoy this digital marketing tool for free.
Although after you will get a flexible pricing structure at GrooveFunnels. It includes the following plans:
Base Plan of GrooveFunnels
For the new user in the base plan of GrooveFunnels you get the following services:
GrooveSell
GroovePages Lite
GrooveAffliate
GrooveFunnels Silver Plan
Silver Plan Of GrooveFunnels
The silver plan of GrooveFunnels starts at $99. It is a starter plan a user gets after the base plan. Lists of features you get in this silver plan are:
GrooveMail
GrooveSell
GroovePages Lite
GrooveAffliate
GrooveVideo
GrooveMember
Gold Plan of GrooveFunnels
The cost of the GrooveFunnels plan is $199. In the gold plan you can have the following features:
GrooveCalendar
GrooveSurvey
GrooveQuiz
GrooveDesk
GrooveBlog
GrooveMember
GrooveVideo
GrooveMail
GroovePages Pro
GrooveSell
GrooveAffliate
Platinum Plan of GrooveFunnel ( Lifetime Plan )
You get advanced features and digital marketing tools at GrooveFunnel.
GrooveSell
GroovePages LiTE
GrooveAffliate
GroovePages Pro
GrooveMail
GrooveVideo
GrooveMember
GrooveBlog
GrooveDesk
GrooveCalendar
GrooveSecurity
GrooveQuiz
GrooveWebinars Live
GrooveWebinars Automated
GrooveKart
GroovePages Shopify
GrooveWebinars Ecommerce
Affiliate Program
Lifetime Platinum Plan of GrooveFunnel
You get 100% tools and services in the GrooveFunnels lifetime platinum plan. Opt to make the full payment of $1397 and earn a 35% discount. Three payment options are available 3,6 and 12 months to make easy payment.
Benefits of the lifetime plan are:
You get access to all the GrooveFunnels products for a lifetime.
You will never lose your account data.
You can use the future products that will come at GrooveFunnels in the future.
A lifetime VIP ticket to the GrooveKon held annually.
You have to pay $497 in three months installment payments and $288 in six months of installment payments.
What are the pros and cons of GrooveFunnels?
The pros of GrooveFunnels are as follows:
You can easily use this landing page tool online.

Funnel creation is quite easy process.

Get an all-in-one digital marketing package.

Sell your products easily with GrooveSell.

There is no need to spend extra money on third-party products.
GrooveFunnels cons are:
You need to have complete knowledge of the tools before using them.

It is tough to use GrooveFunnels tools for beginners.
In the beta version, there are bugs in GrooveFunnels.

However, not all the tools are available for the users.
Alternatives of GrooveFunnels are:
The alternatives of the digital marketing tools of GrooveFunnels are ClickFunnels, Kartra, and Builderall. Furthermore, the functioning of these tools is similar to each other. Over the years, ClickFunnel has grown at a fast pace. GrooveFunnels is giving a tough competition to it. It has active 100K users as of the year 2020-2021.
Frequently Asked Questions (FAQs) about GrooveFunnels –
Is it possible to import funnels in GrooveFunnels?
Yes, you can import the funnels using GrooveFunnels while creating a landing page for your website.
Am I able to share the funnels with GrooveFunnels?
Yes, it is possible that you can share the funnels with GrooveFunnels.
Is live webinar software available at GrooveFunnels?
Yes, the live webinar software will available for GrooveFunnels users soon.
When the blogging platform is available at GrooveFunnels?
At the beginning of the year 2021, you will the blogging platform online at GrooveFunnels.
What are some future products of GrooveFunnels?
Groove Digital is a well-known digital marketing company. The company team aims at bringing the latest products for the growth of the online business.  
Also Read : How to add Google AdSense to WordPress in 2021 Guide To Success
Check Out – Various WordPress Premium Themes And Plugins Collection